The Q-Tec concept distinguishes itself from other designs and concepts by its patented, independent three and four wheel suspension and innovative design. By implementing this system onto a Harley-Davidson® bike, it will be transformed into a very unique trike or quad. The Q-Tec concept is a high-quality product that can be considered as the "Rolls-Royce" of the trikes and quads. The integral core of the design is the patented differential which in itself is the sole basis of the overall concept of Q-Tec. It was specifically developed for this venture.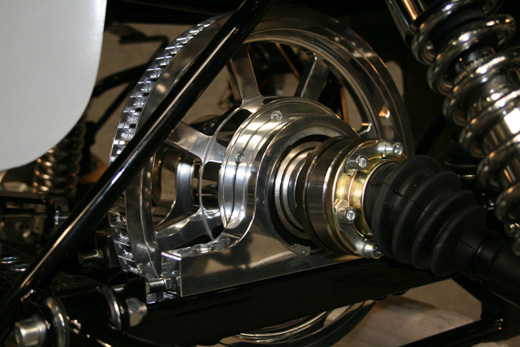 The differential is particularly compact in dimension and can be fitted with either gear/chain traction or belt traction and yields enough potential for custom applications and adjustments. 
The suspension is adjustable in three modes but can be fitted and extended with customer specific set-ups. In combination with our independent suspension, a spectacular drive-ability and to date unknown level of driving comfort and safety has been attained.
 
This revolutionary concept is extensively tested by Q-Tec Engineering on all kinds of road conditions under all circumstances. Only when all tests have been proven successful, are we satisfied and can provide a product that will perform any time and any where in the world.