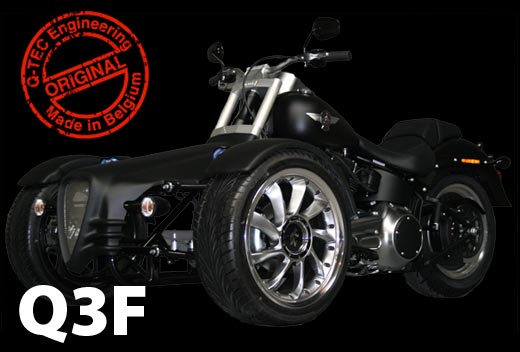 The unique and patented concept provides the option to transform your Harley-Davidson® into a
Trike by implementing our frontend set-up. This gives you a Trike with a two-wheel frontend and a single-wheel original backend.
The complete transformation entails no drilling, welding or any other permanent alteration of your original Harley-Davidson® motorcycle frame or chassis.

Image

As with all of our variations, we have chosen a classical Formula 1 race car suspension set-up.
The complete frontend remains unchanged and original unless otherwise specified by the customer.

The steering is direct and easy to handle by using a variable, non-linear lever principle that provides perfect handling and road feedback. The parts are manufactured of high grade, aeronautical aluminum, milled out of a single piece of aluminum to comply with our highest quality levels.

The frame covers and fenders are handmade of high-quality fiber glass.