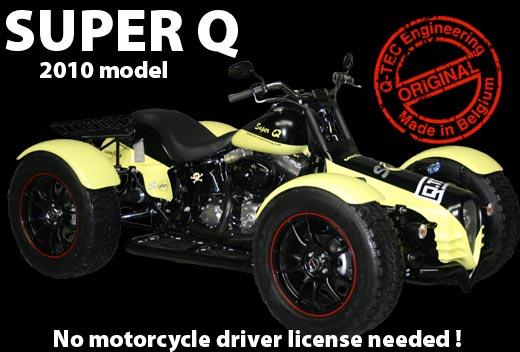 The Q-Tec system has significant advantages over existing trike and quad designs. Our concept is revolutionary and unique. Our products increase the exclusivity of your Harley-Davidson® and lift it from the masses.

At the same time, it maintains the value of your original Harley-Davidson® motorcycle because the products can be assembled without drilling or welding of your original frame and chassis. By simply removing the Q-Tec set, we can re-create your Harley-Davidson® motorcycle to its original state. This also gives you the option to port your Q-Tec set to another base bike if needed.
Due to its simple handling, Q-Tec Quads and Trikes are well suited for physically disabled individuals who do not want miss the thrill and adventure of riding a Harley-Davidson® bike but in a different dimension.
All components are manufactured of high grade steel and aluminum and comply with Q-Tec's quality standards.

Construction time for a Q-Tec is maximum one work shop day, excluding any kind of custom or standard paint job. That means you do not have to spare your Harley for days and weeks at a time. Within a very short period of time you can enjoy your personal Q-Tec on the road.
Handling of a Q-Tec is incomparable to other Trike and Quad vehicles in the market. Due to its innovative design and engineering, it performs and handles extremely well and yields a high level of safety and comfort even at high speeds.

We are constantly expanding our line of accessories to offer you even more options to personalize your Q-Tec.
You only require a car driving license to drive a Q-Tec - a specific motorcycle license is not required by law.